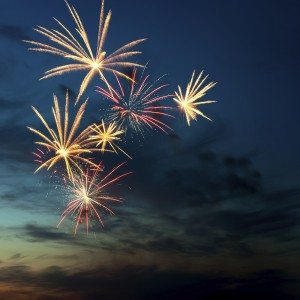 Michigan Fireworks Laws:

The Fourth of July has come and gone but fireworks can still be heard in neighborhoods all around Detroit when the sun goes down. Michiganders have been enjoying relaxed state fireworks rules since Governor Synder signed the Michigan Fireworks Safety Act of 2011. This act allows aerial fireworks to be legally purchased within Michigan state lines, making it easier for consumers to put on their own impressive firework displays around the holidays.
The law states that local governments may create their own ordinances to regulate the use of consumer fireworks as long as the local ordinances do not restrict the use of consumer fireworks on the day before, of, or after a national holiday except to dictate that fireworks cannot be discharged within certain hours. Localities with a population of 50,000 or more may prohibit use from midnight or 1 a.m. to 8 a.m. and localities with a population of less than 50,000 may prohibit use from 1 a.m. and 8 a.m. Violating a local fireworks ordinance comes with a fine of up to $500.00 so it is best to refer to your city or town's ordinance before you use fireworks.
The Act also prohibits the use of fireworks by someone that is under the influence of alcohol or controlled substances or from use on public property. An individual that violates these provisions could be fined up to $500.00.
Recently, Michigan state Senator Glenn Anderson stated that he is working to repeal the 2011 Act and prevent the sale of high-powered fireworks within Michigan.   His primary concern is that the expected economic benefits of allowing sales don't outweigh the risks to Michiganders' health of widespread use. Individuals across Michigan feel the same way and have concerns about the noise implications. Local governments are responding to these concerns by strictly enforcing the law.
Violations come with a significant penalty. If you have violated the Act or a firework ordinance, contact the attorneys at Garmo & Kiste, PLC at (248) 398-7100 for a free consultation or send us a private message. We will help you assess your options and discuss how to proceed.