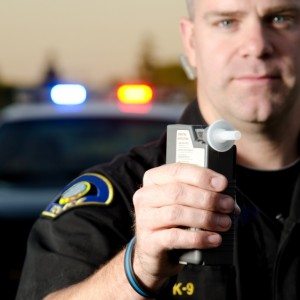 Release Imminent: Law Enforcement Develops Marijuana Breathalyzer: 
What a long strange trip it has been indeed, with respect to the various legal iterations of our society's relationship with marijuana. What was first medicine was then criminalized, before being re-legalized for medical purposes at the state level in many states (including Michigan), and has now been decriminalized for recreational purposes in Colorado, Washington, and many Michigan cities. As the recent changes were largely effected by referendum legislator made law has failed to keep up with the changing times.
As such, law enforcement thinks it is high time for regulation to catch up. Researchers who believe that driving while under the influence of marijuana as driving under the influence of alcohol believe they may have finally come up with a new solution in an older form: the breathalyzer. The idea is that a simple breath test could reveal the presence of THC (the active chemical in marijuana) in the body. While breathalyzers are notoriously unreliable even for alcohol, this particular type of Breathalyzer has unique challenges.
The marijuana Breathalyzer can only detect THC, according to the study, 30 minutes to two hours after smoking. Those who smoke regularly may have a positive reading after up to a week of abstinence, much like the increased recovery time of heavy users in urine tests. This is problematic as it means that a person could be arrested for driving while under the influence of marijuana up to a week after using what is now a legal recreational substance. Furthermore, there are no safeguards yet in place for those who have a medicinal marijuana card. Additionally, this study Finally, even those who are very impaired who smoked even 30 minutes prior to the test may pass in some instances.
While we do not endorse driving while impaired, our experienced attorneys feel that this new Breathalyzer may present serious legal issues as applied to our clients. Hopefully by the time it gets out of the development stage these kinks have been worked out to ensure that those who are exercising their legal rights are not ensnared by these regulations.
To retain Garmo & Kiste, PLC, for assistance in these matters please contact us at (248) 398-7100 for a free consultation or contact us with a private message. We are experienced Michigan attorneys with offices in Troy, MI.
Serving clients in the following areas:
Detroit | Troy | Royal Oak | Warren | Sterling Heights | West Bloomfield | Novi | Rochester Hills | Farmington Hills | Southfield | Oak Park | Birmingham | Clinton Township | Livonia | Allen Park | Redford | Wayne | Dearborn | Berkley | Shelby | Romeo | Lapeer | Clawson | Madison Heights | Hazel Park | Bingham Farms | Harper Woods | Grosse Pointe | St. Clair Shores | Livonia | Plymouth | Northville | Canton | Pleasant Ridge | Clarkston | Waterford | Grosse Pointe Farms | Center Line | Eastpointe | Roseville | Fraser | Grosse Pointe Woods | Harrison Township, Mount Clemens | Armada | Armada Township | Bruce Township | Memphis | Ray Township | Richmond | Richmond Township | Romeo | Washington Township | New Baltimore | Macomb Township | Shelby Township | Westland | Inkster | Utica | Chesterfield Township | Lenox Township | New Haven | Taylor | Southgate | Hamtramck | Romulus | Woodhaven | Wyandotte | Ecorse | Lincoln Park | Wayne County | Lapeer County | Macomb County | Oakland County | Tri-County Metro Detroit area