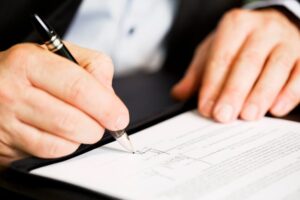 It is important to note that signing a person guaranty is NOT standard practice, especially if your business has good credit or significant assets. If you have been asked to sign, are considering signing, or have already signed a personal guaranty it is a good idea to contact an attorney to assess your options. An experienced attorney may be able to negotiate for new terms of a loan whereby a personal guaranty is not required.
If you have already signed and may default, or have already defaulted we may be able to negotiate a settlement with your lender, as we have for hundreds of others, and extinguish the debt for once and for all. Additionally we can analyze the validity of the personal guarantee, and assess your options.
Maybe most importantly, we have seen many people sued individually for Debts that are not personally guaranteed, or where by the personal guarantee taken is not valid under law, we have attached several examples for your reference, Call us today, maybe we can save you $72,000.00, $22,000.00, or $52,000.00 like we did for these three.
To retain Garmo & Kiste, PLC, for assistance in these matters call us at (248) 398-7100 for a free consultation or contact us with a private message. We are experienced Michigan attorneys with offices in Troy, MI.